I'm a Spa slut everywhere else in the world, but here in NYC, a few really bad treatment experiences have left me wary and hesitant to explore. But, when Biologique Recherche comes calling, I'm all in.  I couldn't have asked for a better experience and learned so many new tips that I've been anxious to share with you all. This post was inspired by your zealous response to my IG stories, my dear Skinthusiasts! 💕
Biologique Recherche is a long time favourite brand of mine and the Lotion P50 is my ride-or-die. With this toner, I no longer feel the need for professional facials. That's not to say I would turn down one from BR though… Honestly, I could barely keep my composure when they reached out.
This treatment is available at the flagship Paul Labrecque Spa in NYC on 171 E 65th street. It's a beautiful sanctuary where I often drop by for mani's and to buy my BR products because this brand was notoriously difficult to access online. They have a personal approach to sales and prefer you get a consultation from a professional to determine the best products for your skin. This policy has since softened and you can buy their products online without a consultation.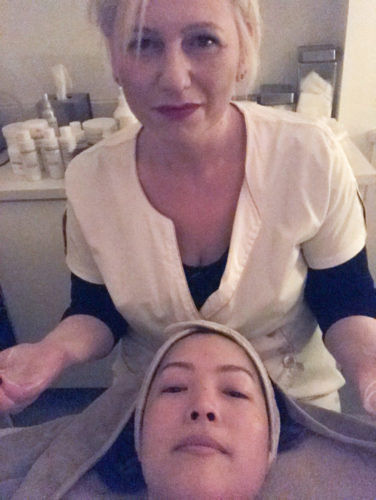 Check out Julia, my esthetician. She's a badass with the gentlest hands and is passionate, warm, tough and educational. I got some tough love for using tretinoin (her belief is that P50V > Retin-A) and for having so many blackheads on my nose.
Her assessment of my skin : In good condition but confused. In need of oxygen as well as hydration and it's not as thin as I may believe. It's also not so much sensitive as it is reactive. She was going to be gentle with the actives.
The Facial & What I learned About The "Biologique Recherche" Approach :
Heating the skin is avoided
"You put things in the fridge to retain freshness. Things that are left in the heat go rotten faster." – Julia. Dramatic but point made. BR avoids heating the skin with steam or using hot towels in this treatment because they simply don't believe in it. Just so happens I recently read an article on how over-heated skin over lengthy periods of time can cause hyperpigmentation, inflammation and other disorders, so I'm comfortable with this standpoint. Besides, I hate hot towels particularly when they're being wiped across my face. It grosses me out. They even discourage using warm water to rinse your face. As a teenager with angry acne/rosacea, my dermatologist told me to only rinse or cleanse my face with cold water so this approach really resonates and makes me happy.
Julia did however reluctantly,  have to steam my face to perform extractions on my blackhead-infested nose. But only for a couple of minutes which is way less time than I've experienced in past facials where the steam would be on my face for up to 10 minutes.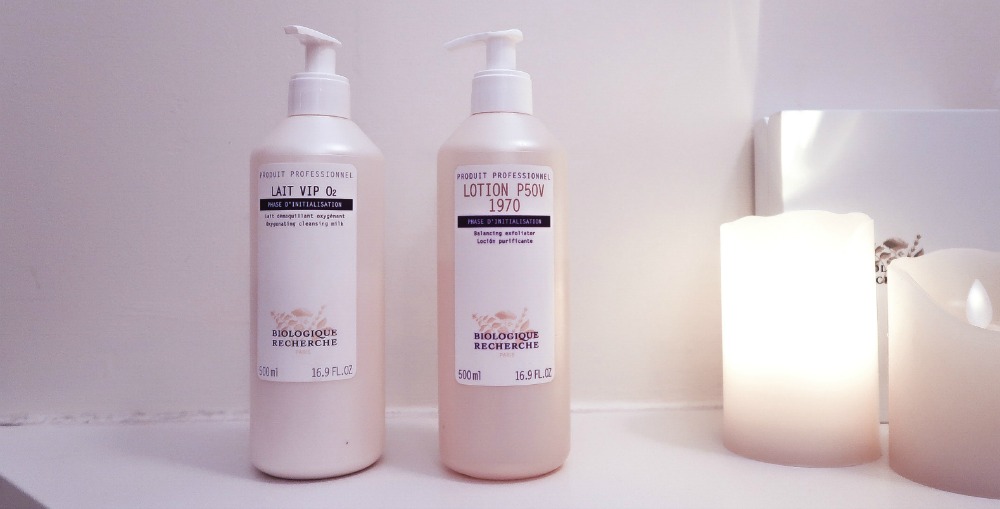 Cleansing with Lait Oxygenant VIP 02
I wasn't wearing any makeup other than some concealer under my eyes and sunscreen. She used this cleanser on me because she said my skin didn't just need hydration but oxygenation too. This lightweight milk has oxygenating properties as well as deeply cleanses.
This was applied with a lymphatic massage which actually subtly changed my face shape by the end of the treatment. There was far less puffiness, more definition and circulation. Everything looked brighter and lifted. Lymphatic massage FTW!
She then removed the cleanser gently with cold water-soaked cotton pads. Not a cloth or towel and nothing warm. We both share a loathing for washcloths which was a relief.
I usually use the P50W but Julia believes I should be using the V. But that's not the real revelation of this session…
I've been applying P50 ALL. WRONG – I told her that sometimes P50 would cause redness which would last longer than I'd like. She demanded to know how I apply it, I told her I use it like a toner and swipe it across my face with a cotton pad. Starting with my cheeks then nose, forehead, sides of face and chin. There was a gasp and she proceeded to educate me.
In the video, you see her demonstrate a few times how she presses the formula into my skin. First scene, she's applying the product. Second, she's explaining that when we apply ourselves, start on one side first from the side of the neck moving up to face, then swipe over lips last. Third, she's showing how to press the product into areas of concern, mainly side of mouth, nose, between the brows and forehead.
She uses 2 gauze pads rather than cotton because it soaks up more product and gives a more even release.
2 splashes of product into the gauze
Start on one side from chest
Press and release the product into skin moving up the neck towards ear. No swiping or rubbing. Press. And. Release.
Move up the side of your face, focusing around areas where wrinkles can form namely sides of the mouth, between brows and forehead as demonstrated in the video. Then lastly, swipe gauze over lips.
She completely avoids direct application on the apples of my cheeks which is usually where I start swiping first and usually ends up very red. She's focused on the areas where there are more pores and where wrinkles form.
There was no burn, no tingle, no redness but my skin was exfoliated, smooth and shiny. My lips were also smooth and soft.
Mask Layering
First mask applied on my face was the Masque VIP 02 for oxygenation.
Hands were used to apply masks as opposed to the usual spatulas. She believes the mask applies closer to the skin this way and helps to activate the product.
She first applied the mask around and on my eyes. Literally on my eyes, over my lids even. It didn't seep or irritate. I could easily watch an episode of 'Curb' with it on.
After the mask was applied to the rest of my face, a thin layer of mesh gauze was pressed over it.
The second mask to be layered on top was The Cold Mask which is an Algae Green Clay mask and it was cold, stayed cold and felt great on the skin.
When both masks were removed, my skin felt ridiculous. I could feel tingles of vitality.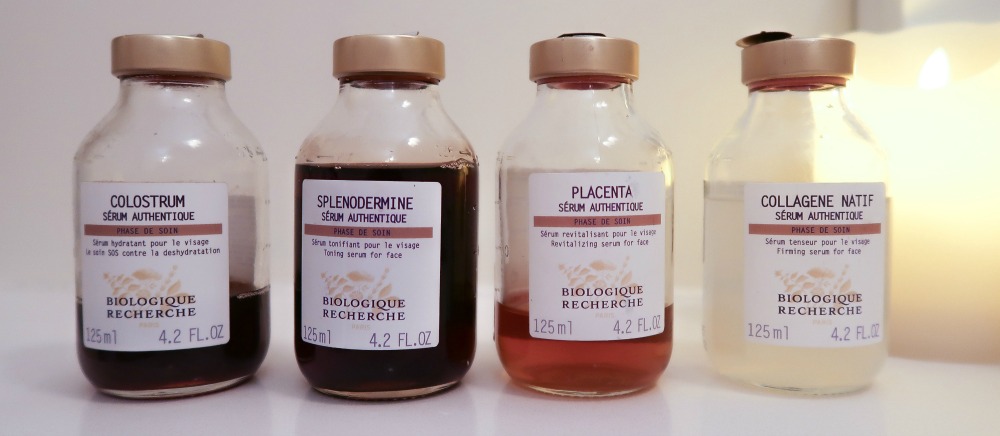 Customized Serum Cocktail
This part was the most interesting albeit unnerving for me. Like a few of you pointed out in the IG stories, the serum vials look like the kind used for IV administration. When I turned to see Julia using an injection needle to extract serum from a vial, I was pretty nervous. But she ejected the liquid into a little dish along with 3 other serums chosen for my skin.
Serum Colostrum Pure  Moisturizing milk proteins improves elasticity and revitalizes skin
Serum Splenodermine  Firming serum and promotes regeneration
Serum Amniotique E. (Placenta) Intensely hydrating and promotes skin regeneration.
Serum Collagene Natif  Intensely hydrating and helps bind water and restore barrier function to the epidermis.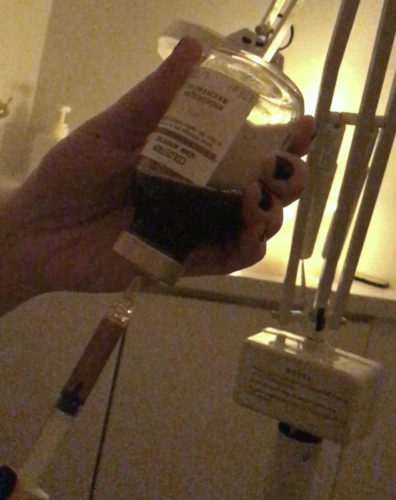 The 4 different serums pictured above were the personalized cocktail that transformed my skin instantly. This stuff was active let me tell you. From the moment the brew was applied to my face, I could feel activity and tingling. Things were happening. Somehow the combination of these hydrated and tightened my face up, brightened it, evened out my skin tone despite having gotten my blackheads extracted, and imparted a healthy sheen. There was some left over and I wanted to bottle it and take it home with me.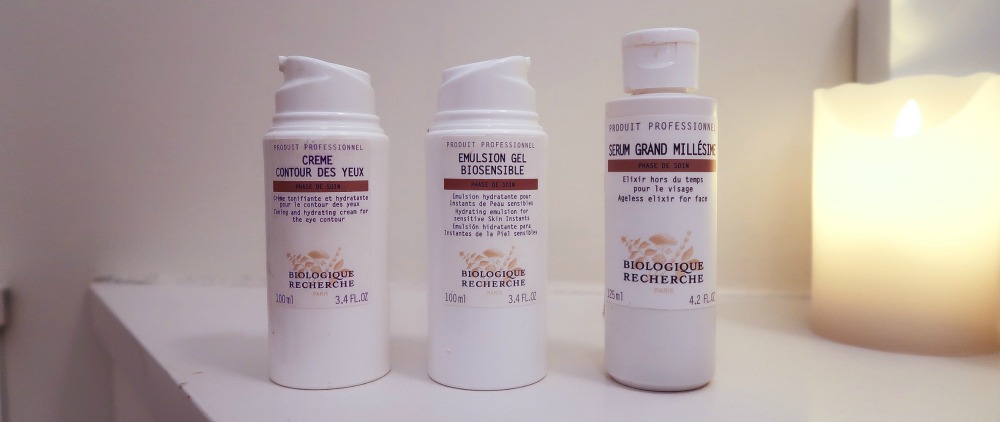 Moisturize
Creme Contour Des Yeux – Light but moisturizing eye cream
Emulsion Gel Biosensible – For face
This moisturizer was used to calm my skin after all the activity with the serums. This beautifully light weight emulsion immediately calmed my skin. However, it was a freezing, windy day and I definitely needed something heavier against the cold, drying wind. My eye is on the Masque Vernix which Julia recommended as a moisturizer.
Finishing Serum with Serum Grand Millesime
This is a new concept. First time I tried a 'Finishing' product was Sulwhasoo's Luminature Essential Finisher.  BR also believes in a finishing serum as a final layer over your moisturizer to seal everything in and protect your skin from the environment. This leaves the skin with a beautiful glow and is a perfect makeup gripper.
Results
Biologique Recherche believes healthy skin is glossy but not greasy. That's the kind of skin I left with. Infact, days later, I am still enjoying the smoothness, softness and tightness of my skin. The picture was taken right before leaving the spa. It's not touched up or filtered, no makeup and my eye luggage somehow disappeared along with the darkness that stubbornly resides there. I'm mostly surprised at how even my skin tone is. I can barely see my hyper pigmentation splotches and the redness around my nose and cheeks are not obvious. My skin feels tighter, pores are clean and less obvious. I could gush for paragraphs.
For those of you asking for details about the Facial, you can find it here. The Facial I got was the Lotion P50 Deep Cleansing Hydrating Facial – 60 mins – $180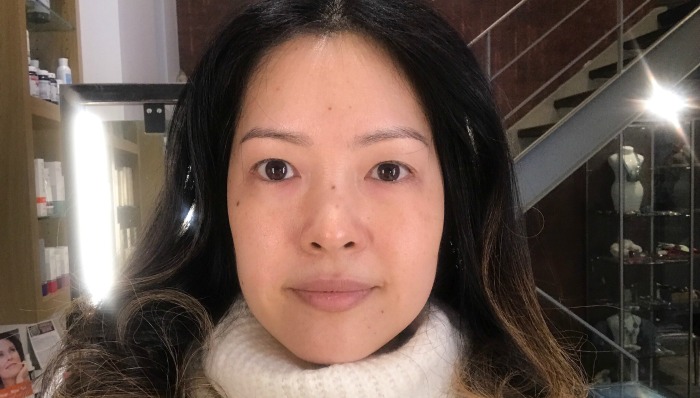 Wishing you great skin health,

This post is not sponsored but the facial was complimentary from the gracious Paul Labrecque Salon & Spa. Links are not affiliate.