Everyday, I am inspired and learning from this community of skincare soulmates. Connecting with fellow skintellectuals through my media channels has been a joy and constant inspiration. I found my peeps.
My guest blogger and friend, Beauty_Unplugged and I, bonded over a similar taste in products, mille crepe and trailing a deluge of skincare. Recently, she made an interesting post about her face-off with Tretinoin and how she won. I've mentioned that I have been gearing up for my own imminent showdown starting Fall after a traumatic first experience. Ms. Unplugged and I had bonded in the past over shared horror stories of our Tret experience. When she told me she was going to try again, I thought she was mad. Her victory though, is encouraging and am so honoured to have her share her experience on my blog!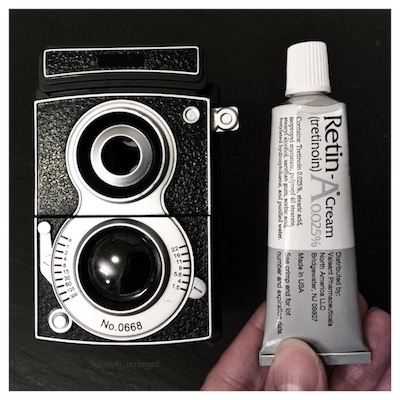 My journey with retinoids by @Beauty_Unplugged
Let me start from the beginning. I was born in Seoul and moved to the U.S. with my family when I was 5. My skincare journey started very late and would have been very different if I stayed in Korea–I would have kept out of the sun, been diligent about sun protection, and would have started skincare in my late teens.
Instead I lived for sunbathing, tanning, and swimming all through my youth.
This caused hyperpigmentation, early fine and coarse lines, and in general accelerated the aging process for my skin.
Many dermatologists and skincare professionals would agree sunscreen is the number one antiaging product. After that, it is definitely retinoids. I don't know why but I used to associate retinoids with "cheating" when it comes to antiaging. I thought youthful skin was only for a lucky few that were genetically endowed rather than something that could be purchased in a tube or bottle. Botox would be a more extreme version of that sense of "cheating." This does not need to be the case. If I knew what I know now, I would have started on a retinoid in my mid to late 20's.
Retinoids include retinol (vitamin A) and its derivatives. There are weak retinoids such as retinyl palmitate and the slightly stronger, retinol. Then there are stronger prescription ones like tretinoin (Retin A), tazarotene (Tazorac) and Adapalene (Differin), which recently became OTC in the USA.
Prescription retinoids are a powerhouse for antiaging and acne treatment. Anti-aging because it causes cells to turn over much more quickly than without it which promotes collagen production. It is excellent for acne because it exfoliates deeply due to this rapid cell turnover. However, the side-effect to this power is it can wreak havoc on even tough oily skins. Havoc being redness, swelling, peeling, dryness, and sensitivity.
My initial journey with retinoids started in an attempt to fade very severe hyperpigmentation. Jumping straight to prescription tretinoin was too much for my dry sensitive skin despite my desire to also use it for its antiaging benefits. So I backtracked and started with weaker non prescription forms and made my way up to stronger formulations.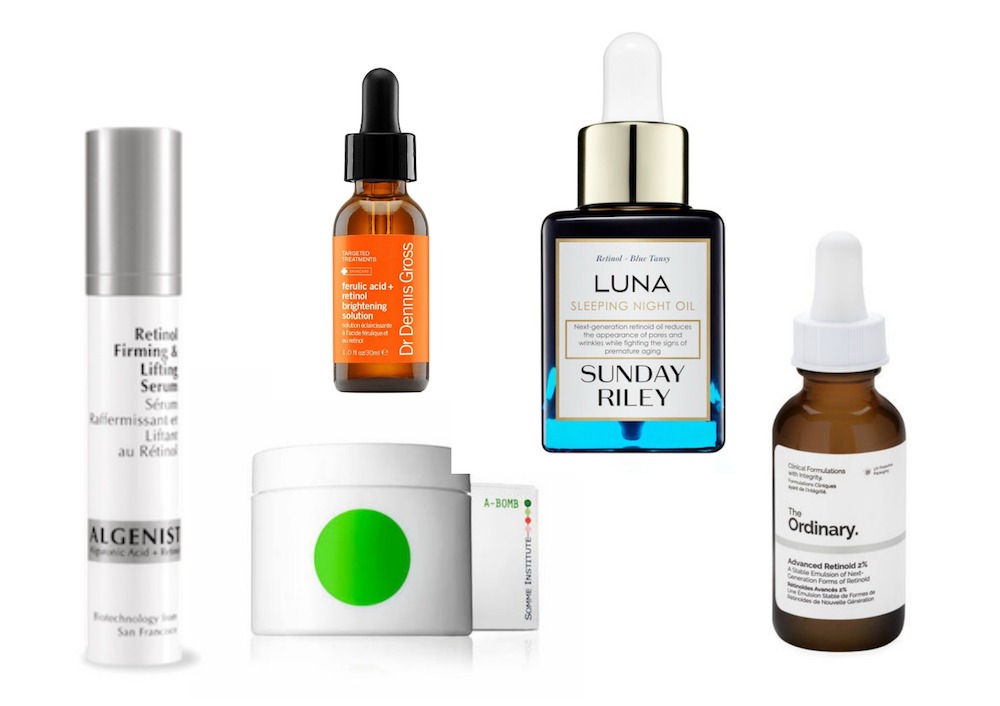 Algenist Retinol Firming and Lifting Serum is a great starter retinol because it is so gentle. It contains no fragrance and is a light watery cream texture that absorbs quickly and works well with the rest of my skincare routine twice a day. The skin improvements were very subtle.
Somme Institute A Bomb contains retinyl palmitate and is a medium weight cream that is great for dry skin at night. It also contains a vitamin C derivative. Skin improvements were also very subtle.
Sunday Riley Luna contains hydroxypinacolone retinoate (also the key ingredient in Pestle and Mortar Superstar Retinol Night Oil) and is a blue colored oil that is medium weight, deeply fragranced, definitely brightening and reduced fine lines around my mouth within 6 weeks of nightly use.
Dr Dennis Gross Ferulic Acid + Retinol Brightening Serum contains retinol and mildly helped brighten my complexion. It reduced fine lines but ultimately, after more prolonged use, I felt it slightly thinned my skin when used nightly.
The Ordinary Advanced Retinoid 2% contains 1.9% hydroxypinacolone retinoate and 0.1% retinol. This product is amazing and incredibly affordable. I finished the bottle and noted that my skin had more elasticity, suppleness, bounce, subtle evening of tone and dramatically reduced fine lines. I was also pleasantly surprised that it did not destroy my skin in the process of acclimating to it. It was this product that prompted my sister to ask if I had started Botox due to my skin appearing much smoother and youthful. Despite it being non prescription, I still had to go slow. I started using it twice a week for 2 weeks then 3 times a week for 2 weeks, etcetera until I got used to using it nightly. I had to avoid acid exfoliation for up to 6 weeks during the initial phases. This was a tough wait period because I love to exfoliate with alpha hydroxy acids (AHAs). I have back ups of this product and recommend it often to friends and family. And did I mention it's affordable? $9.80 USD for 30ml!
Prescription tretinoin 0.025% cream was my ultimate goal in terms of tolerability in exchange for desired effects. I started this right after finishing a bottle of The Ordinary Advanced Retinoid 2% in order to keep the momentum going. I went even slower with this cream by mixing it in an oil the first 4 weeks. After that period I applied it by itself onto completely dry skin after cleansing, toning and essence steps at night. I would allow the cream to absorb for 20-60 minutes depending on what time I started. It took my skin about 5 months to get accustomed to using it 3-4 nights a week while still using AHA 2 nights a week. Accustomed means no morning redness, swelling, inflammation, sensitivity, severe dryness. I never peeled because I allowed my skin to get used to The Ordinary product first and eased into it with an oil carrier initially. I don't know if my skin could handle nightly use but I will be resuming this in the fall so I will keep you posted periodically on my instagram account.
Before summer kicked into full gear, I used Zelens Power A which contains hydroxypinacolone retinoate and retinyl palmitate on alternating nights with tretinoin and I loved it. I will test it nightly during the month of August. And in September I will bring tretinoin slowly back into my routines. If possible I may continue the tretinoin year round and not stop in the summer next year. Studies have shown that the benefits of retinoids last about 2 months after discontinuation so not using it for several months feels like lost time.
I have also briefly tested Curology, mainly to verify that the brand contains active ingredients. It is an online dermatology service that prescribes prescription and non prescription strength products based on skin concerns. A bottle usually contains 3 skincare ingredients ranging from tretinoin, azelaic acid, vitamin c, niacinamide, etcetera. You pay a monthly membership/service fee and periodically upload photos for your provider to analyze. Because tretinoin and Curology are prescription based, I do not show these regularly on my Instagram feed. They are prescribed by licensed professionals for a reason. Meaning it's important to know your skin, do your research, and talk with your dermatologist and aesthetician about what is appropriate for your skin. Retinoids and certain other products are not safe in pregnancy so it's important to talk with your providers if you are thinking of becoming pregnant, currently pregnant or breastfeeding.
For me the benefits of retinoids have been firmer skin with more bounce, fewer fine lines and wrinkles, smoother skin, and smaller appearing pores. The brightening and evening of skin tone was not as prominent a benefit of retinoids for me. I attribute those changes more to other products in my skincare routine such as AHAs, vitamin C, licorice root extract, niacinamide and alpha arbutin to name a few.
Here are some basic tips for prescription strength tretinoin that worked for me. Keep in mind that my skin type is dry, dehydrated, sensitive and prone to redness. Your experience may be different and always consider consulting a dermatologist to see what your skin needs.
1. Start slow 1-2 times a week for 2 weeks, 2-3 times a week for 2 weeks etc. If you can get to a point of using it at least 3-4 times a week that would be ideal. Nightly is even better but skip the tretinoin if using acid at night because acids can reduce the effectiveness of retinoids. Or alternatively use acids in the morning and retinoids at night.
2. Apply just a pea sized amount to completely dry skin after toner and essence steps at night.
3. Try to wait a minimum of 10-20 minutes after use for absorption. Sometimes I wait up to an hour.
4. When starting, try to avoid AHA and BHA use for 1-2 months–this part was the toughest for me but it helped reduce the dryness and irritation!
5. When starting, consider mixing with an oil or serum or moisturizer your skin already loves for a few weeks, for up to one month.
6. Be prepared to slather your skin in very hydrating and moisturizing layers, as well as multiple layers of these products.
7. Be patient…it can take up to 3 months for skin to get used to tretinoin. It took my super sensitive skin 5-6 months to acclimate to tretinoin 0.025% every other day while still being able to use AHA/BHAs up to twice a week.
8. Get in the habit of wearing broad spectrum sunscreen with SPF 30 or higher everyday.
9. Avoid the sun in general if possible because fresh new skin is more prone to sun damage, hyperpigmentation, and photoaging.
10. If summer is coming and you will be outdoors most days, I would consider stopping retinoid and resume in the fall. If you will be mostly indoors, continue on if possible.
I hope you enjoyed reading about my retinoid journey. Remember everyone's experience will be different. Please do your research, talk to professionals in your area and most importantly be patient because the pay off is fantastic!